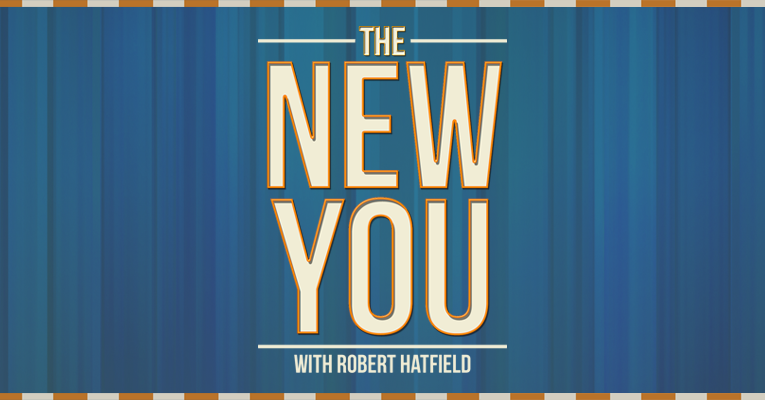 Podcast: Play in new window | Download
The New You Season 4, Episode 5 for Friday, August 12, 2016
See the episode transcript below.
Links
Your Feedback
Subscription Links
Episode Transcript
Welcome to The New You, where we focus on maintaining and accentuating the new that Christ has created in you. I'm Robert Hatfield, and here is today's Scripture:
In this is love, not that we loved God, but that He loved us and sent His Son to be the propitiation for our sins. Beloved, if God so loved us, we also ought to love one another (1 John 4:10-11).
One thing is for sure: we are all looking for love. We want love in our homes, in our congregations, and among our friends. We want love to permeate our nation and our world.
I truly believe that the best place to find love is in the Bible and in those who will follow the Bible. Will you join me in restoring love?
True love is unmistakeable.
The Bible says that "God is love" (1 John 4:8). That statement reminds me that God not only loves (and we know He does, John 3:16), but that He is the originator, the source, of love. Further, the Bible makes it clear that, when we show love to one another, we are actually showing that God abides in us (1 John 4:12).
Let's note some characteristics of that kind of love.
First, love is a decision. Since God is the source of love, He gets to define love. The word agape, the Greek word that is most often used for our English word love, tells us that God's love is intentional and active. But you don't have to be a Greek scholar to know that. John 3:16 says it all. God chose to love us – when we were the most unlovable (Rom. 5:8) – so that we who believe in Him "should not perish but have everlasting life." Amazing! Love is a decision.
Second, my love is linked to my relationship with God. John states it in the negative in 1 John 4:8: "He who does not love does not know God, for God is love." Flip that to the positive and you get this: He who loves knows God. If you show love, then you are demonstrating that you have been influenced by the teachings of your heavenly Father.
Third, true love is seen. John reminds us that God's love "was manifested toward us" (1 John 4:9) through Jesus. The application when it comes to love is that true love isn't merely expressed in words, it is seen in actions.
Fourth, God's love is unconditional. It was God who loved us first, not the other way around. He loved us even when we were spiritually weak, sinners, without strength and without hope. We are called to love like that: "Beloved, if God so loved us, we also ought to love one another" (1 John 4:11).
Fifth, God's love is sacrificial. God manifested His love to us by sending "His Son to be the propitiation for our sins" (1 John 4:10). What are you willing to sacrifice for those whom you love?
Sixth, God's love is unspeakable, or indescribable. How does one begin to adequately describe what God has done for us in His love? Paul calls it an indescribable gift (2 Cor. 9:15). The Bible says that the breadth of God's love reaches to every person (Acts 10:34-35). Its depth extends to those in the lowest abyss of sin (1 Tim. 1:12-15). Its height exalts every person who obeys Him (1 John 3:1-2). Its length is from everlasting to everlasting. Paul assures us that nothing can separate us from the love of Christ (Rom. 8:35). It is only by our choice to turn from it that we would separate ourselves from that amazing love.
That love – the manifested, unconditional, sacrificial, unspeakable love of God – is unmistakable, and it cannot be faked. One whose love is patterned after God's love will be blessed and will be a blessing to others.
Where do I find this kind of love?
This unique love can only be found in God (1 John 4:7). It is clearly manifested in Christ (Mat. 22:37-39), and is seen in His disciples (John 13:34-35). The Lord's disciples, Christians, show that love in church assemblies (Heb. 10:24-25), in their homes (Eph. 5:23ff.). They show it to each other and to complete strangers (Mat. 22:39). This love has transformed their thinking about life! They show it wherever they are.
Let's wrap it up: If true, unmistakable, godly love will be found in our world, it will only be found because Christians – just like you and me – choose to restore that love. This love is exactly what people are looking for, and it's been God's pattern for His people all along.
Thanks for listening to The New You. This podcast is brought to you by The Light Network. Visit us online at thelightnetwork.tv. You can follow us on Twitter by going to twitter.com/newyoupodcast. Subscribe to this podcast in iTunes or the Google Play Store to automatically receive each new episode. I'll meet you Monday on The New You.