Dear friends of The Light Network (TLN),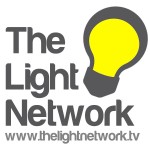 We can hardly wait for the official launch of TLN! We have been in prayer throughout the past month, asking for God's blessings and increase on our work. During that time, we have released pilot episodes of our podcasts, which have been well received and widely spread. Our iTunes feeds have been established, making TLN's podcasts available for FREE on the most popular online marketplace in the world. Thank you for your support, your encouragement, and your prayers. As God continues to bless us with more time on earth, we willcontinue to preach and teach the gospel of Christ through the media of podcasting and social networking (facebook, twitter, pinterest, and more).
We hope that you are planning to join us LIVE online for our Launch Party, which will mark the official beginning of The Light Network. The Launch Party will take place Saturday, January 5, 2013 from 2:00 PM to 5:00 PM (CST). It is our prayer that our time together at the Launch Party will be encouraging to you, enlightening to you regarding the work of TLN, and empowering to all of us as we dig into the Word of God. Four devotional messages will be delivered during the Launch Party by Torrey, Chris, Robert, and Brad. These messages will center around what God's Word says about light. Also, the very first episode of Ready to Worship will be recorded live during this time. The entire TLN team will be in our studios during the Launch Party and we hope you will join us at https://thelightnetwork.tv/live. You will be able to interact with us LIVE via the chat room and our TLN voicemail line (903-26-LIGHT). We are looking forward to talking with all of you!
Will you help us spread the word about our Launch Party? Please share this post and our website link with your Facebook friends, Twitter followers, email contacts, and others. Perhaps you would like to invite the youth group or some other group from your congregation to your home or to the church building to participate in the TLN Launch Party together. In exchange for hosting a "Satellite Launch Party", we will send you TLN wristbands for your guests and flyers to help you promote the event. If you are interested, please send an email to chris@thelightnetwork.tv at your earliest convenience. The deadline to receive your bracelets by Launch Day is Tuesday, January 1st.
Between now and January 5, please continue to lift The Light Network before God's throne in prayer. On January 5, at 2:00 PM (CST), we hope you can join us on our live stream and in our chat room for the Launch Party. From that time forward, please subscribe to our podcasts in iTunes, watch the videos on our website (https://thelightnetwork.tv), and join us live as we record our podcasts.
May God's Word be spread, may God's people be uplifted, and may God receive all of the glory.
Walk in the light,
Chris and Robert
(TLN directors)